Seeking Sicily: A Cultural Journey through Myth and Reality in the Heart of the Mediterranean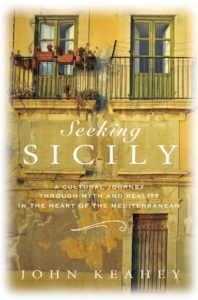 Buy at Amazon Buy at Barnes and Noble Buy at IndieBound
Seeking Sicily: A Cultural Journey through Myth and Reality in the Heart of the Mediterranean is the title of John's next book, a travel narrative that captures Sicily and its various cultures through his eyes and the eyes of Sicilian authors of the nineteenth and twentieth centuries, most notably Leonardo Sciascia (1921-1989) of Racalmuto, province of Agrigento.
John Keahey has written four books about Italy, all published by Thomas Dunne Books: A Sweet and Glorious Land, Venice Against the Sea, Seeking Sicily, and Hidden Tuscany. He is an amateur historian with a particular interest in the lands of the Mediterranean Sea and areas surrounding the Black Sea. John is an Idaho native, reared in the once-small community of Nampa. He was a reporter and news editor for The Salt Lake Tribune for twenty-two years. He worked for a handful of small newspapers in Idaho and Utah and at United Press International in Salt Lake City. For one fifteen-year period away from his first love, journalism, he served as a spokesman for the University of Utah Health Sciences Center and for the energy company Questar Corp. He holds history and marketing degrees from the University of Utah. John is married to Connie Disney, a freelance book designer. John has a son and a daughter.
Media

Click any image to view a larger image.
---
Reviews for Seeking Sicily
National Geographic Traveler: Book of the Month

At one point in John Keahey's new book about Sicily, a Sicilian-born poet friend tries to explain the islanders' character: "We are not south of Italy; we are north of Africa!" This simple, perspective-spinning declaration is typical of the insights Keahey presents in this impassioned and learned account.
With extensive details and a fond admiration of its people, Keahey effectively articulates why the people of this charming island "are Sicilians before they are Italians, and why no amount of time under the control of Rome will ever change that."
(Read the full review: http://travel.nationalgeographic.com/travel/traveler-magazine/trip-lit/seeking-sicily/)

— November/December, 2011

Kirkus Book Reviews

Veteran newspaperman Keahey continues his exploration of Italian civilization with an appreciation of the rich, vibrant surroundings of Italy's largest autonomous island.
Having previously explored both the Ionian Sea region and the disastrous fate of an ever-sinking Venice (Venice Against the Sea: A City Besieged, 2002), the author turns his journalistic eye toward Sicily, a "strange, magnificent, brooding island." Keahey meticulously observes the history, colorful customs and culture of Sicilians with boundless curiosity. He climbs the rickety scaffolding in capital city Palermo to capture the best view of the palazzo compound of taciturn Sicilian novelist Giuseppe di Lampedusa. He shares a stroll through a cuisine cornucopia at Vucciria marketplace and observes the region's many unwieldy, grandiose festivals and processions honoring patron saints and Easter Week.
After illuminating the island's varying economic strata, Keahey retraces the fascinating history of village squares once used for public burnings and the restoration of a local prison. Some of his sightseeing is informally guided by indigenous "Siciliani," an assemblage of prideful natives whose characteristics the author describes with the same spirited deliberation as chapters on myths, food, native dialects and the histrionics of the Sicilian Mafiosi. In a superbly sensory chapter, Keahey marvels at variations in Sicilian cuisine with mouthwatering descriptions flooding the pages of this lush travelogue.
With extensive details and a fond admiration of its people, Keahey effectively articulates why the people of this charming island "are Sicilians before they are Italians, and why no amount of time under the control of Rome will ever change that."

— October 1, 2011

Publishers Weekly

"When travel writer Keahey first visited Sicily in 1986, he discovered that it hardly resembled the bucolic images of peasant men and women hauling huge piles of newly harvested grapes or of donkey carts carrying oversized milk cans. Disappointed, he began his search for the Sicily of an earlier era and found it in the pages of numerous 19th- and early 20th-century novelists and essayists.
"Seeking to understand better the richness of Sicilian culture and its 3,000-year history, Keahey visited Sicily four times between March 2009 and March 2010 to see the island in various seasons. He sets out to capture Sicily through conversations with islanders and by studying their writers and their myths. For example, Keahey weaves Giovanni Verga's short stories about the carts used to carry people on rough 19th-century roads with the story of Franco Bertolino, the last of the traditional Sicilian cart painters; Bertolino is at once nostalgic and resigned to this closing chapter of Sicilian history.
"Keahey ranges widely over topics from language and festivals to food and the Mafia. He points out that the Sicilian language has no future tense, surmising that was likely due to Sicilians having long been occupied by other empires and had no hope of having an independent future.
"Keahey's journey is a rich guide to the culture and history of Sicily."

— August 8, 2011