A Sweet and Glorious Land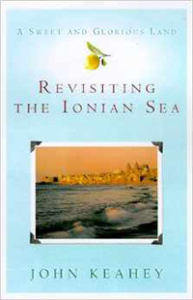 Buy at Amazon
In the winter of 1897, Victorian writer George Gissing made a well-chronicled journey throughout southern Italy. The result was a book, By the Ionian Sea, which was published in 1901 and has since become a classic in travel literature.
A hundred years later, award-winning newspaper journalist John Keahey sets off to retrace Gissing's footsteps. His goal is to compare and contrast the two Italys, seeing first-hand all the changes that have occurred over the past century. From train rides through the lush countryside to the crisp mountain air of Cantanzaro, Keahey paints a beautiful and compelling picture of one of the most popular parts of the country.
A Sweet and Glorious Land is not only a wonderful travelogue but also an intriguing history of Italy and its people.
---
Reviews for A Sweet and Glorious Land
". . . Keahey distinguishes himself by leading readers on a detailed trip through an area few tourists visit: Calabria, with its scattering of small towns running from mountain to sea."

— Publisher's Weekly

"John Keahey's idea of visiting the shores of the Ionian Sea under the expert guidance of his predecessor, the Victorian novelist and traveller George Gissing, has proved a brilliant one, fertilizing his own originality and giving breadth to his lightly—worn learning."

— Pierre Coustillas, editor of The Gissing Journal and Professor of English Literature at the University of Lille, France

"A crisp travelogue from Salt Lake Tribune reporter Keahey, laced with appealing historical references, that follows the itinerary of a century-old trip made by novelist George Gissing through southern Italy.

"At the turn of the century, Gissing traveled by steamer, horse cart, and [rail] around the heel and toe of Italy. He wrote an account of the trip, By the Ionian Sea, that Keahey suggests is one of the best pieces of travel literature ever published. From the quotes Keahey uses to salt his own journey, it is difficult to understand why: Gissing comes across as dour and petulant. "It disappointed me that I saw no interesting costume; all wore the common, colorless garb of our destroying age," he complains, declaring that village after village presented him with "a horrible time." Keahey, on the other hand, is energetic and curious and willing to look the fool in order to explore where his nose tells him he must go. The landscape and its past have their hooks in him. He gets mugged, suffers the smog of Naples with its too-numerous automobiles and smoking buses, he is hurt by the ragged poverty of the south, but he is also lifted by the land's sere beauty — its orange and lemon groves, as well as its tangible links to antiquity (for this is a place that knew Hannibal and Pythagoras, Herodotus, Horace, and Strabo).

"Keahey is a first-class story storyteller, calling up the grandeur and fabulous historical tableaux from the dust, sunlight, and ruins that stand before him. Italy, Keahey explains, is one of history's great crossroads, and there is no better testiment to that than the Via Appia — the end product of Egyptian and Phoenician surveying, Etruscan and Carthaginian paving, and Greek masonry. It is the road that takes one back in time, as well as to Rome or Taranto.

"Lucky for us to have Keahey as narrator to the region. He can keep Gissing. "

— Kirkus Reviews, April 15, 2000

"Veteran newspaperman Keahey, now an editor and reporter for the Salt Lake Tribune, has retraced the footsteps of George Gissing, a Victorian writer (and good friend of Arthur Conan Doyle and H.G. Wells), who traveled to Southern Italy in 1897. His subsequent accounts became a classic in travel literature titled By the Ionian Sea. A hundred years later, Keahey visits such fascinating and historical destinations as Naples, Paola, Cosenza, Sybaris, Taranto, Crotone, Catanzaro, Reggio di Calabria, and Squillace and notes changes and similarities over the past century. The result is an informative and well-researched work on one of the most popular parts of Italy that provides a historical perspective on the area and its people. A detailed chronology, maps, the author's photographs, and a bibliography are all useful, but an index would have been helpful as well. Recommended for public libraries with large collections on travel and Victorian literature."

— Library Journal

For the last century or so, literary travellers to Calabria have been forming something of a conga dance across the generations. As he moved through the region in the winter of 1897, Gissing had a copy of La Grande-Grèce in his baggage, and was consciously following in the track of François Lenormant a decade earlier: he was thrilled to see the French scholar's signature in a visitors' book at Reggio. A few years later, before the First World War, Norman Douglas pursued Gissing into and out of the hotels he had immortalised—if that is the right word for it—and already found much improvement. The ever-informative H.V. Morton, head full of the memories of his illustrious predecessors and others even earlier, joined the procession in the 1960s, writing up his impressions as A Traveller in Southern Italy. The Coustillases followed the Gissing trail first in the summer of 1965 and again in October 1998: their typically thorough and charmingly personal enquiries, under the title "Revisiting the Shores of the Ionian Sea," appeared as a supplement to this Journal as recently as October last. Sometimes it seems as if the only traveller to the South who was not in quest of some admired predecessor was Alaric the Goth. He, at least, had had nothing more elevated on his mind than getting off the peninsula altogether, with his Roman loot.

In the autumn of 1997, John Keahey, a Salt Lake City journalist, chanced across a copy of By the Ionian Sea and found it entrancing. Although he knew little or nothing about its author, he realised that he was reading the book at a propitious moment because the centenary of Gissing's trip was approaching. He decided to retrace its course through the cities, both extant and extinct, which are strung along the edge of the Italian boot—the Magna Graecia, or Greek colonial settlements, of antiquity. Like Gissing he started from Naples (though not by sea) and then passed through Paola, Cosenza, Taranto, Metaponto, Crotone, Catanzaro, Squillace and Reggio, trying everywhere to see what Gissing saw, and comparing his own impressions with his. Everywhere he goes he finds change; and everywhere he finds continuity too.

Keahey describes A Sweet and Glorious Land as "a personal narrative and a work of journalism, not a footnoted history or a scholarly work". That is a description, of course, that would also serve quite well for the impressionistic "ramble" of By The Ionian Sea itself. And therein lies a problem. Any book of travel which belongs, like this one, to the sub-genre of "in the footsteps of the master" is apt to be read as a pale shadow of its inspiration, and to invite invidious comparisons which are probably unfair and unreasonable. This must be especially true when the "master" in question is from the literary world and has written a book fairly similar in nature to its successor.

There are many ways in which By The Ionian Sea is a hard act to follow. Like much of Gissing's work, it has an obsessional quality about it. It has a peculiar tone: a mixture of romantic exaltation over the irrecoverable past and a prolonged lament for it, all salted with a good deal of saturnine humour. This surely reflects the peculiar circumstances that produced it. The experiences behind By The Ionian Sea and its composition span the whole gamut of emotions in Gissing's life. The writer who left England in September 1897 was a harried man indeed. He was not merely taking a trip. He was abandoning his second marriage and his two young sons. He was able to get away at all only because of the altruism of his sisters and women friends in coping with his children and his vengeful wife; he was perfectly aware of that and, not surprisingly, he carried a heavy load of guilt in his luggage. On top of that, he had a difficult critical book to write (he did it in Siena) before he was able to free himself for his trip to the South.

Entirely different was the situation when he began to write up his travels eighteen months later at the end of June 1899. Externally at least his life was transformed. He had moved to France and started a new life with Gabrielle Fleury, and he began the book in her mother's apartment in Paris, completing it during an idyllic August holiday in the Alps. It would not be long before Gissing's old devil, neurotic restlessness, would start troubling him again. But in that magical summer of renewal, he felt, as he wrote to his friend Bertz, that "for the first time in my life, I am at ease". Surely not many travel books have gathered their material in one extreme state of mind and been composed in another at the opposite end of the emotional spectrum.

Naturally (we presume), A Sweet and Glorious Land did not emerge from circumstances even faintly resembling these. The persona of the narrative is that of a relaxed, humorous, urbane, middle-aged, happily-married American, off whose back the familiar minor irritations which beset every tourist in Italy bounce fairly readily. Where Gissing is carping and ill-tempered (as he is from time to time: think of his references to the "coarse and bumpkinish" faces at Crotone, for instance), Keahey is sunny and untroubled. Actually he had more personal reasons for complaint than Gissing; for though the latter occasionally felt uneasy about the predicaments he got into, he was never really threatened; whereas Keahey's pocket was picked and he was set upon by a mugger and bag-snatcher in Naples even before his journey started, and during a bus journey he was taunted about being a "rich American," with more than a hint of violence in prospect.

Then again, Keahey travels as an informed and intelligent tourist who is open to all that he sees and hears. But Gissing did not pass his month in Calabria out of any broad touristic impulse. His appetite for the region was a purely romantic one; it was, in the absolutely literal sense of the word, escapist. He is quite explicit about this in his introduction. He went to the South, he says, to "to escape life as I know it and dream myself into that old world"; the world of "vanished life so dear to my imagination". He wanted to "wander endlessly amid the silence of the ancient world, [with] to-day and all its sounds forgotten". It reads like an act of renunciation. Given the well-known dangers of travel at that time, and remembering Gissing's personal circumstances and the fact that he did nearly succumb to an illness, one wonders whether he was not, in some covert fashion, tempting Fate, if not actually courting suicide.

Another problem is that the reflective traveller-historian is hard put to see something to write about. Gissing's choice of southern Italy, for a man bent on soaking himself in the remnants of classical antiquity was not the best one. Sicily would have offered him more; and for a man who had already visited Greece, North Africa or south-western Turkey would have offered more still. For, of course, the truth is that earthquakes, ecological disruption caused by deforestation, shifting coastlines, malaria and human despoilation over many centuries have left few remains south of Paestum for the imagination to feed upon. Apart from a few new excavation sites which are comprehensible only to students, and some better exhibits in the museums, nothing much has changed in this respect since Gissing's time. The region is still, as H.V. Morton said, pre-eminently a country for scholars. There is a passage in Edward Hutton's old Naples and Southern Italy which conveys this very well. Hutton is summarising Reggio's (Rhegium's) calamitous history. He picks up the story after a siege in 387BC, when the city was laid waste and all her citizens sold as slaves. In 191BC it was half-wrecked by an earthquake; then "it fell to Alaric in 410 . . . it was taken in 549 by Totila, in 918 by the Saracens, in 1005 by the Pisans, in 1060 by Robert Guiscard, and was burnt out by Frederick Barbarossa. Rebuilt, it was sacked by the Turks in 1552 and burnt to the ground by them in 1597. Rebuilt again, in 1783 it was totally destroyed by an earthquake, as it was again in 1908." The town was still mostly rubble when Hutton passed through. This paragraph adequately explains why there is little of the past left in Calabria; and what there is of the present is not especially inviting. As it happens, both Paul Theroux in The Pillars of Hercules and the anonymous writer for The Rough Guide to Italy independently quote Gissing's comment on Crotone ("this squalid little town") with the notation that it is still not a bad description. Few of the towns are of much intrinsic interest: whatever charms they once had—if any—have been wrecked by careless industrialisation and illegal property development.

Gissing himself solved this problem triumphantly by merging his vivid historical musings with wonderfully acute contemporary observations. Of the former, the high point is of course his famous account of the hallucinatory visions of antiquity that visited him as he lay on his sick-bed in the grip of la febbre. But the latter linger equally in the memory. His eye for the compelling concrete detail is unfailing. It is one thing to say that he found Squillace a desolate town. It is quite another, though, to notice that the sole sign of animation in the place was a pig and a cat playing together, rolling over and over in a muddy gutter. It is one thing to speak of the unhygienic and sluttish habits in the hotels: it is another to capture their essence by noting that the butter is being served up in an eaten-out cheese rind, or to notice the diner who puts his hands over his eyes and actually weeps tears of "indignant misery" at what is put in front of him. Not for a moment do we forget that we are in the hands of a master novelist.

Keahey's comments on modern Italian life, while often quite amusing and informed, cannot match this acuity. He complains that Gissing "voiced numerous laments that today, against the backdrop of modern Italy seem silly"; but his own observations on modern life are perhaps a bit too cliched to be memorable. He does not seem to have his intended reader quite in focus. His lengthy description of his Naples pensione seems aimed those entirely unfamiliar with Europe, and he is not the first Italian visitor, nor will he be the last, to rue the "quiet town squares" that have become "gigantic parking lots," or the "small darting cars," or the "careening teenagers" on scooters. Indeed, if Keahey's book has a fault, it is that parts of it make for rather mundane reading.

That is not altogether his fault, of course. As the books of Paul Theroux and many others illustrate, a sense of boredom, disgust and loneliness does lend spice to travel narratives.Gissing's trip through Calabria had all these things in plenty. It was altogether a stronger, and a much stranger, experience that can be obtained easily a century later. Nowadays the intrepid traveller would have to work a lot harder and go a lot further to get the experiences Gissing had all for the cost of a few days on a train from London. The shocking roads, the verminous beds, the vile and sparse food, the medieval living-quarters, the tedium, the risk of contracting a lethal infectious disease: it is only the remotest regions can provide their like today. Calabria, nowadays, is no dark place of the earth. The lodgings, even in the smallest and most remote places, are now almost beyond criticism; the food is varied and agreeable; journeying is easy and reliable. Forty years ago H.V. Morton was loud in his praise for what the Cassa del Mezzogiorno has done for the South: the alleviation of really grinding poverty, the smiling cornfields replacing gloomy marshland, the bright promise of tourism. But even those remarkable feats were achieved long enough ago to be taken for granted today. Keahey complains, not about malaria, but about the Mafia, but it's no substitute really and seems rather forced. A century ago the omnipresent malaria could quite easily kill you; whereas organised crime is hardly likely to touch the casual foreign visitor.

Where Keahey does most usefully is to supplement Gissing is in his role as historian. He is much better—or more explanatory, at any rate—than Gissing in supplying a straightforward account of the long, long history of Magna Graecia. Most people who read By the Ionian Sea today must be puzzled by its allusiveness. Gissing was writing, of course, for readers who had been educated as he had been, and he takes a great deal for granted. He translates few of his Latin quotations, for example. For the modern reader for whom Virgil and Horace are but names, and who has never read an original line of either, Gissing's eager search for, and disappointment over, the little Galeso river at Taranto must seem rather mystifying. Keahey has an appealing sense of wonder at the remoteness of these events—the fact that these fantastically opulent cities grew, flourished and started to decline before anyone had ever heard of Rome—and his determination to get the sequence of events right, to understand motives and historical causation, makes him a good instructor. He repeats himself a good deal (the book could have been more firmly edited: we are told three times in as many pages that Crotone gained its current name in 1928, for example) but this is itself a teacher's trick.

For this reviewer the most memorable detail in this cheerful and unassuming book has nothing to do with Gissing or Italy. According to Keahey, who learnt it from a movie about wolves, you can keep off aggressive dogs by urinating around the perimeter of a circle and staying inside it. As a dog-hater and dog-fearer on a par with Keahey himself, I intend to try out this tip at the first decent opportunity.

— The Gissing Journal, Volume XXXVI, Number 3, July, 2000